Born in Munich, Germany, I eventually moved to Halifax, N.S., Canada in 1969. Did most of my schooling in Halifax and then joined the Armed Forces as a radar/sonar sensor operator on board Sea King helicopters. Am now married with two children, however converting them to wargaming is a feat in itself. I was first introduced to wargaming by a friend who taught me (and his brother) to play AH's Panzer Leader. From that moment I was hooked and went out and bought my first game: AH's Stalingrad. I actually tried playing it solitaire while on a road trip with my parents. It was not a successful venture in the car; the counters kept sliding off the map and onto the floor or into the seat. I also dabbled a bit in game design and created a few games of my own including Masada, U-Boat and Erich's Soldiers. When ADC2 came out, I was truly excited since I no longer had to worry about clearing a huge table to play one game.

Completed Sets: SPI "Soldiers", AH's Flat-Top, The Gamers "Omaha", AH's Victory in the Pacific, AH's War at Sea, SPI's Ardennes Offensive, Turning the Tables, White Ensign-Rising Sun, and a bunch of others.
The photo shows me (left) and my best friend Mike, sometime around
1965 or so. We were just beginning our wargaming hobby, having acquired
a copy of D-Day by AH. We still manage to get together from time to
time for a game or two.
I am currently 44 years old and married to a wonderful woman who
will play non-hex wargames. We have two daughters, Emily (8) and
Shaelyn (4), both of whom are very interested in my wargames. We
currently reside at the extreme northern edge of Marietta, GA. with our
two dogs Chelsea (an Irish Setter who has eaten a wargame) and Isabeau
(a Golden Retriever who has eaten just about everything else)
I started making sets for ADC, so that my friends and I could play
games through Email. I discovered that making the sets was actually a
great deal of fun. Some day I hope to release my own title through the
medium of ADC.

Completed Sets: PanzerBlitz, Panzer Leader, Panzer Leader 1940,
FinnishBlitz, France 1940, French Foreign Legion, Verdun, Battle of Hue,
Battle of the Bulge, Remember Gordon, Panzer Armee Afrika, Blue and Grey Quads I & II, Napoleon at War, SPI Borodino (1972), Winter War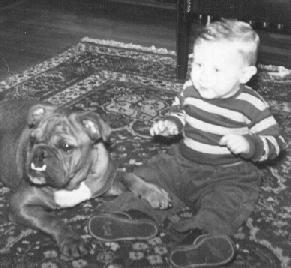 Joe Oliver
A somewhat old pic of faithful babysitter & War Dog "Rusty"
offering advice on the next move (Joe is the one on the right).

Single male of late middle age (the pic slightly predates MacArthur's & Truman's disagreement concerning Korea), educated in Mathematics at Westmar College and the University of Richmond. No military experience, but did work in the interesting summer of '69 as a civilian employee of the Air Force, in the Pentagon. Worked in automotive business for 20+ years, before switching to technical writing and consulting in the computer industry. An almost lifelong resident of Northern Va. suburbs of Washington, DC, currently residing almost in sight of (but OUT-side) the infamous Beltway. Besides gaming, interests include ancient coins, science fiction, politics, and occasional online rants.

Completed ADC2 sets: Gondor, Sauron, Caesar-Alesia, Revolt in the East, Year of the Rat, The Marne, Leningrad, Battle for Madrid, Battle of Agincourt, Battle of Lobositz, Battle of Raphia, Beda Fomm, Crisis 200, Viva Espana!, Operation Olympic, Angola, Operation Dragon Rouge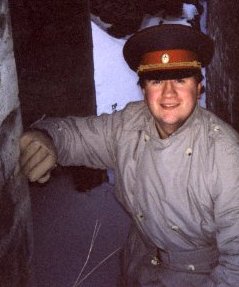 Pal Woje
Pal Woje, Norway. 30 years old, married - no kids. Two cats and
one dog. I work as a computer engineer in the Norwegian Telephone
Company (Telenor) where I maintain old COBOL code. I have been
playing computergames, RPG and boardgames for 17 years.

The picture is from a fieldtrip to german WW2 fortifications (actually
the remains of a 88mm flak battery) around my hometown Bodo in
northern Norway. The cap is USSR Army (I think) and was used in
order to get some pictures for our WW2 miniature campaign game
"Barbarossa/25".

Completed ADC2 sets: Bloody 110, Yom Kippur, Enemy at the Gates
(The Gamers) and La Bataille d'Espagnol-Talavera (Clash of Arms).